In this series, I have deviated from my more emotive and colorful paintings. These drawings are still, contemplative, and peaceful. I used plant medicines and herbal teas to stain the paper and a single black pencil to capture shadow and light in these simple scenes. 
These women are set in ephemeral moments, picking apples, gathering herbs, tucking a blouse into worn-in denim, or relaxing in the dapples of tea that lend these works the illusion of a sunlit autumn evening. My figures have an air of vintage simplicity to them. Dressed in puff sleeves, billowing skirts, and scarves that adorn crowns of long natural hair. I've combined my life-long love of vintage collecting and art making here, referencing pieces in my wardrobe for drape, pattern, and texture. 
The process for creating the nude figures involves more movement than the other drawings. The paper fibers have been stained with herbals, but this time, I've used ponderosa pine needles and the smooth edge of an obsidian chunk to swirl ink and wildfire charcoal to mark the page intuitively. In the space between obsidian scraped and pine-scratched ink, I sketch nude landscapes depicting the undulating and imperfect-perfection of the body. The smudges and streaks frame the drawings to give a moody, natural, and tangled look to these levitating figures.
These drawings bring me a meditative pause from my other artworks. They are a golden hour-gossamer-nostalgia-daydream-love letter from me to you.
If you have questions or see something you would like to add to your walls, please don't hesitate to send me a message via the contact page. I can always make a custom listing in my shop.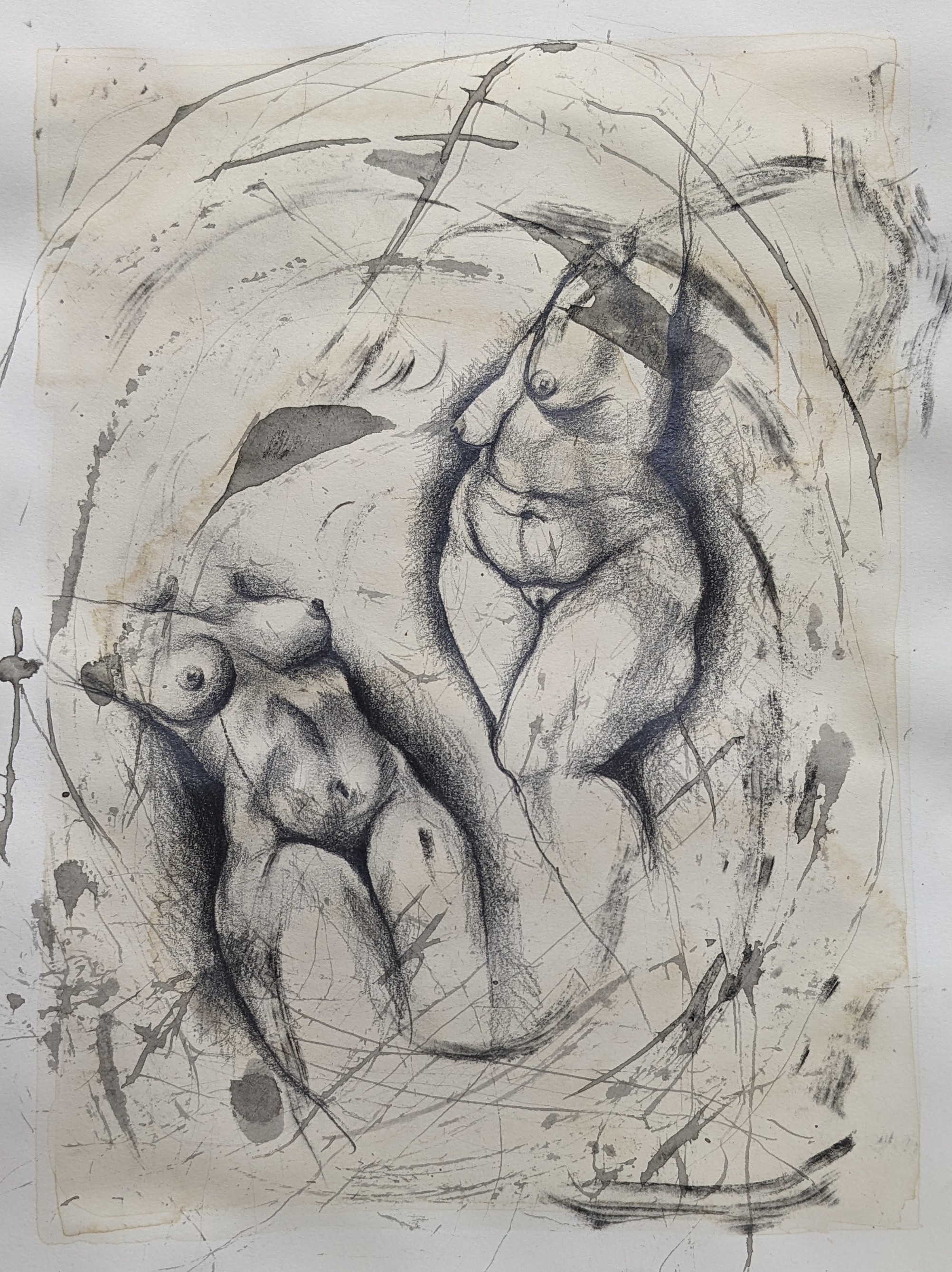 Draw Breath | herbal tea, pencil, India ink, and wildfire charcoal on paper | 8" × 10" | SOLD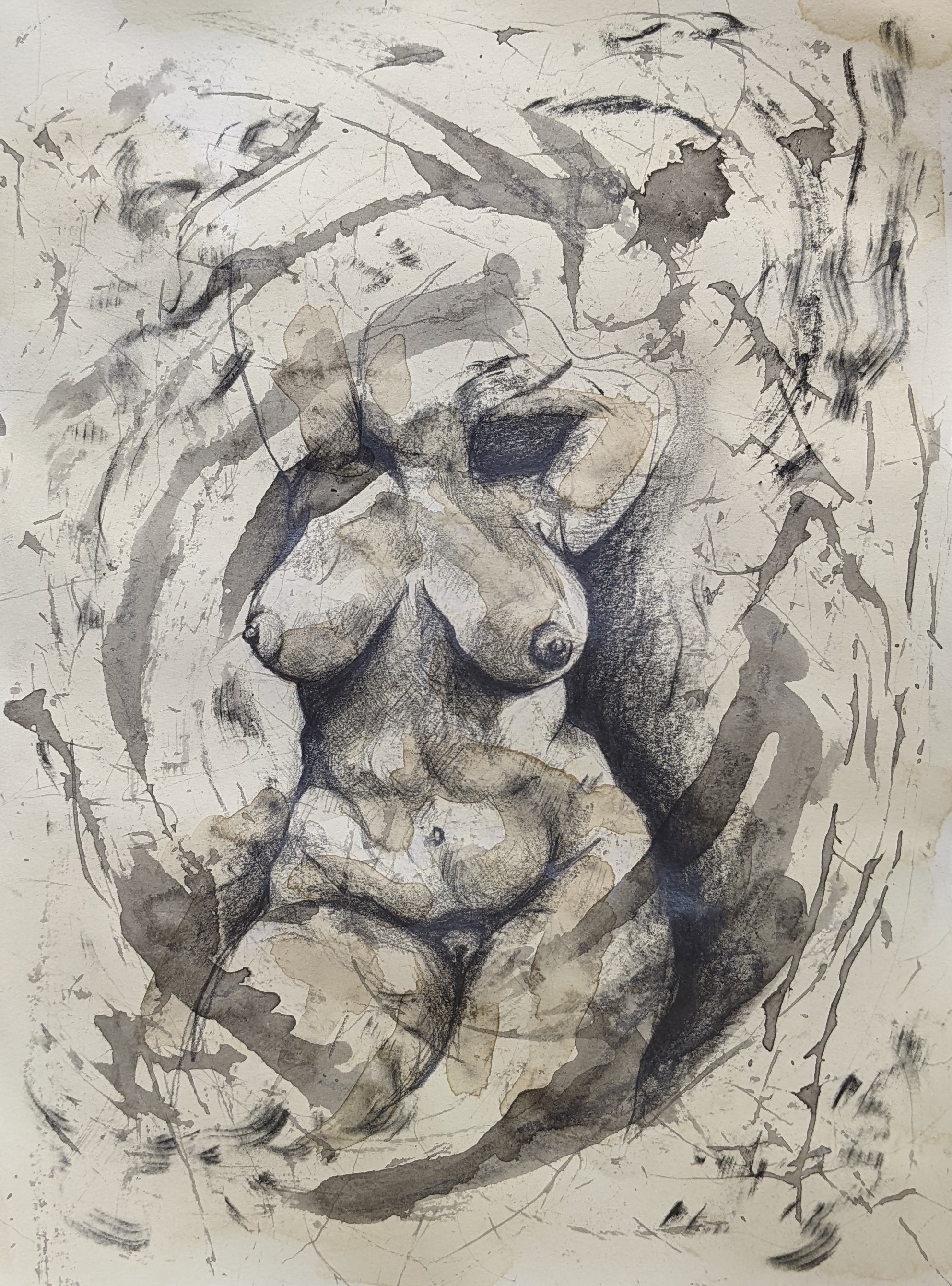 Holy Flesh | herbal tea, pencil, India ink, and wildfire charcoal on paper | 8" × 10" | SOLD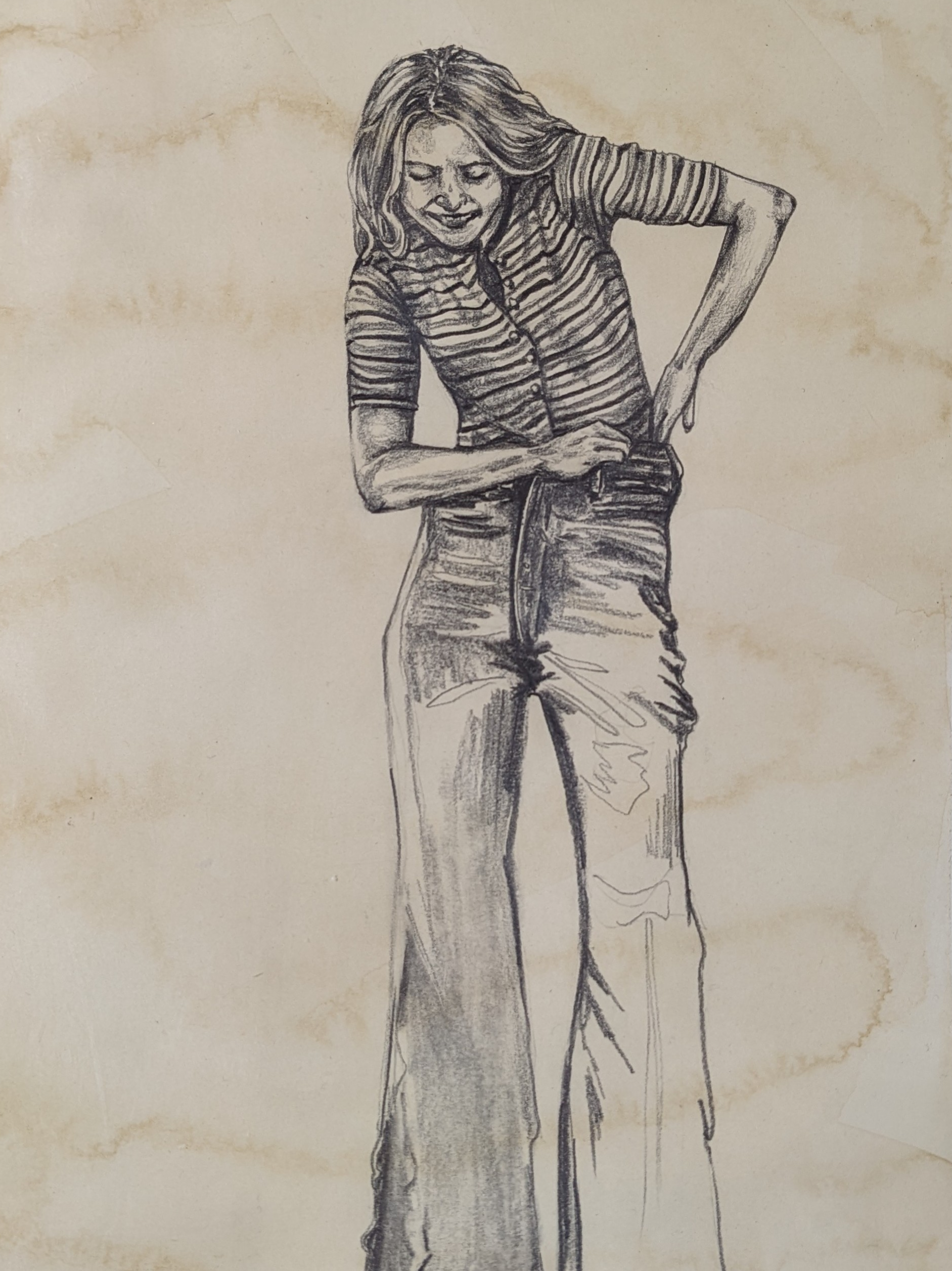 Tuck In | herbal tea and pencil on paper | 8" × 10" | $80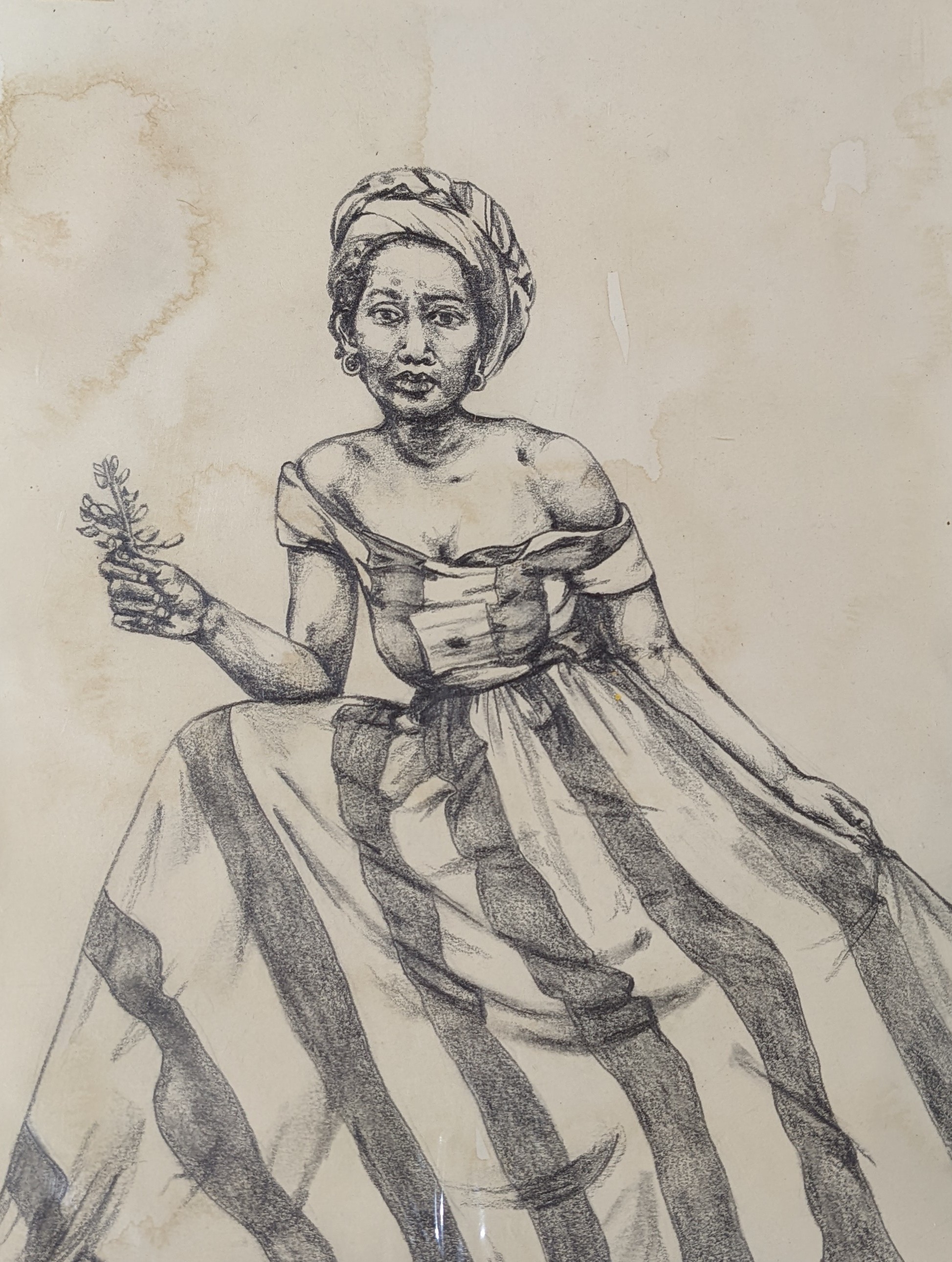 Tea and Stripes | herbal tea and pencil on paper | 8" × 10" | SOLD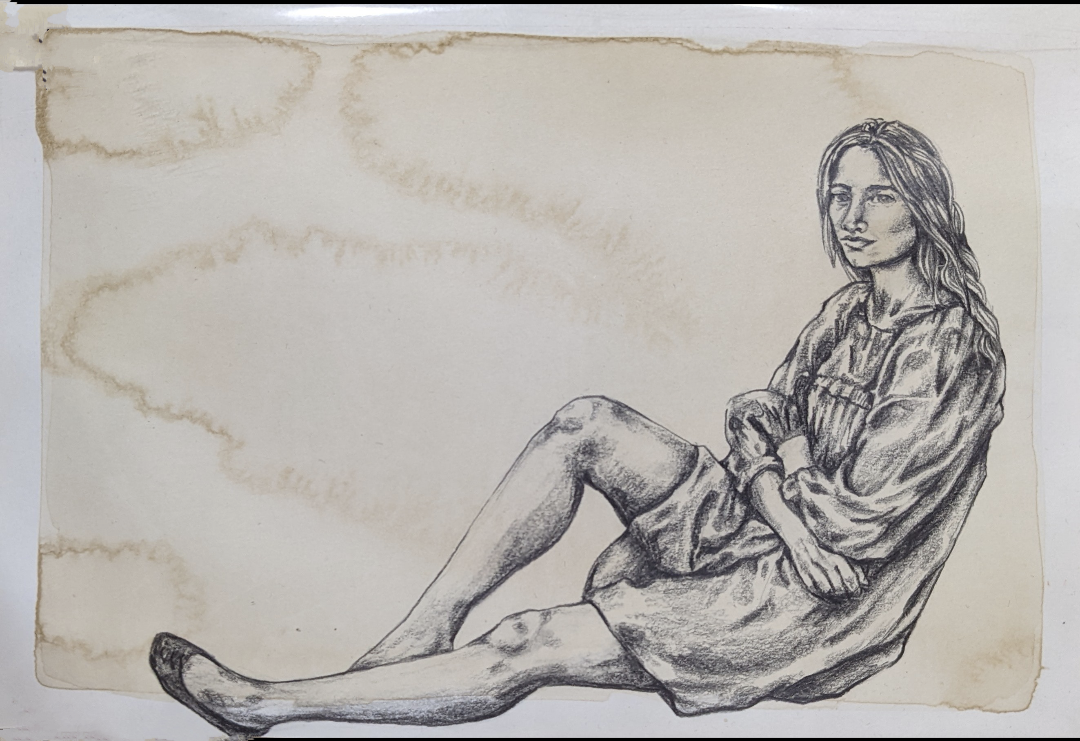 Autumn Warmth | herbal tea and pencil on paper | 9" × 6" | SOLD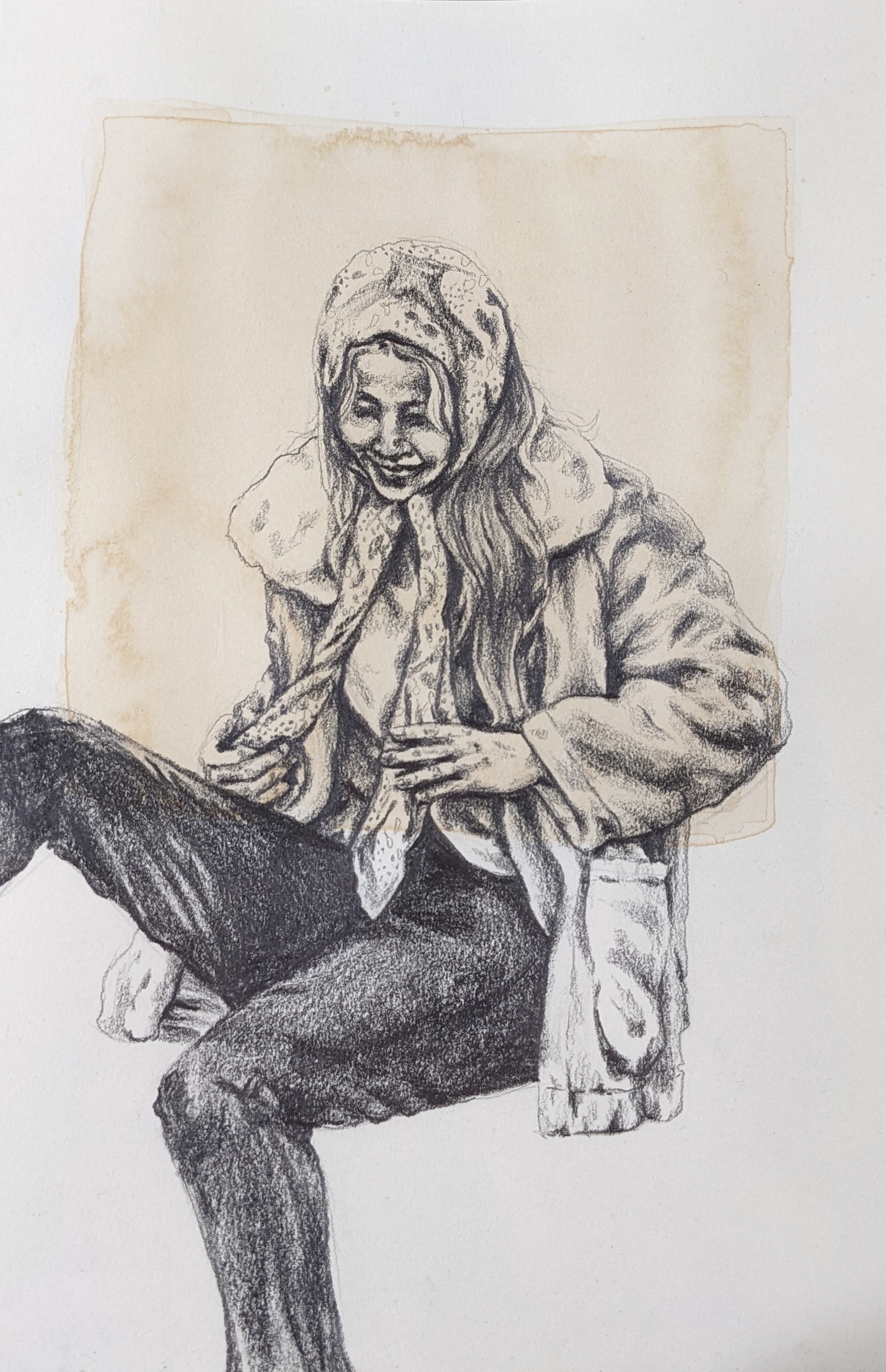 On the Garden Wall | herbal tea and pencil on paper | 6" × 9" | $50 
Picking Apples | herbal tea and pencil on paper | 6" × 9" | $50
I Belong to Myself | 6" × 9" | SOLD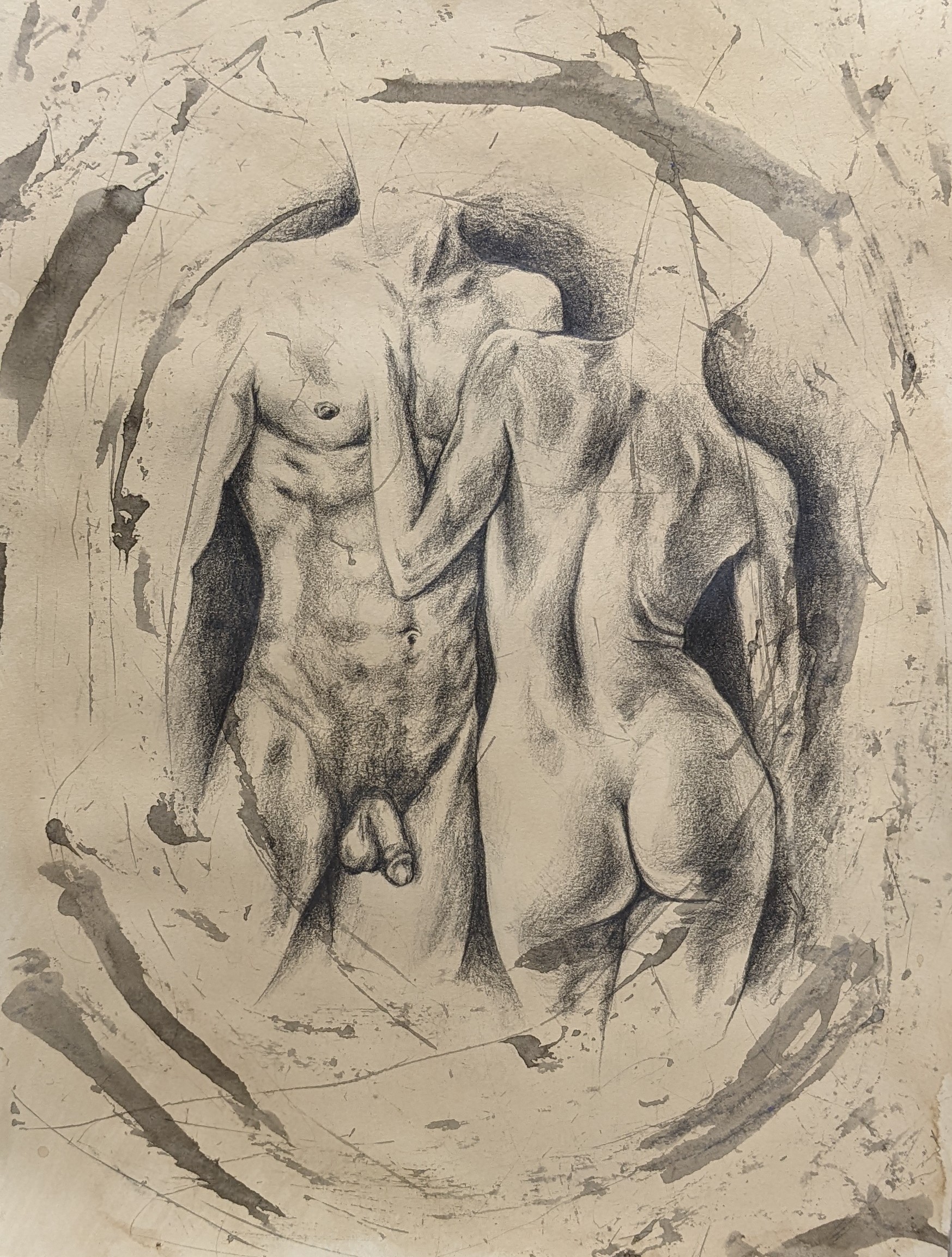 First commission for "L"  | herbal tea, pencil, India ink, and wildfire charcoal on paper | 11" × 14" | private collection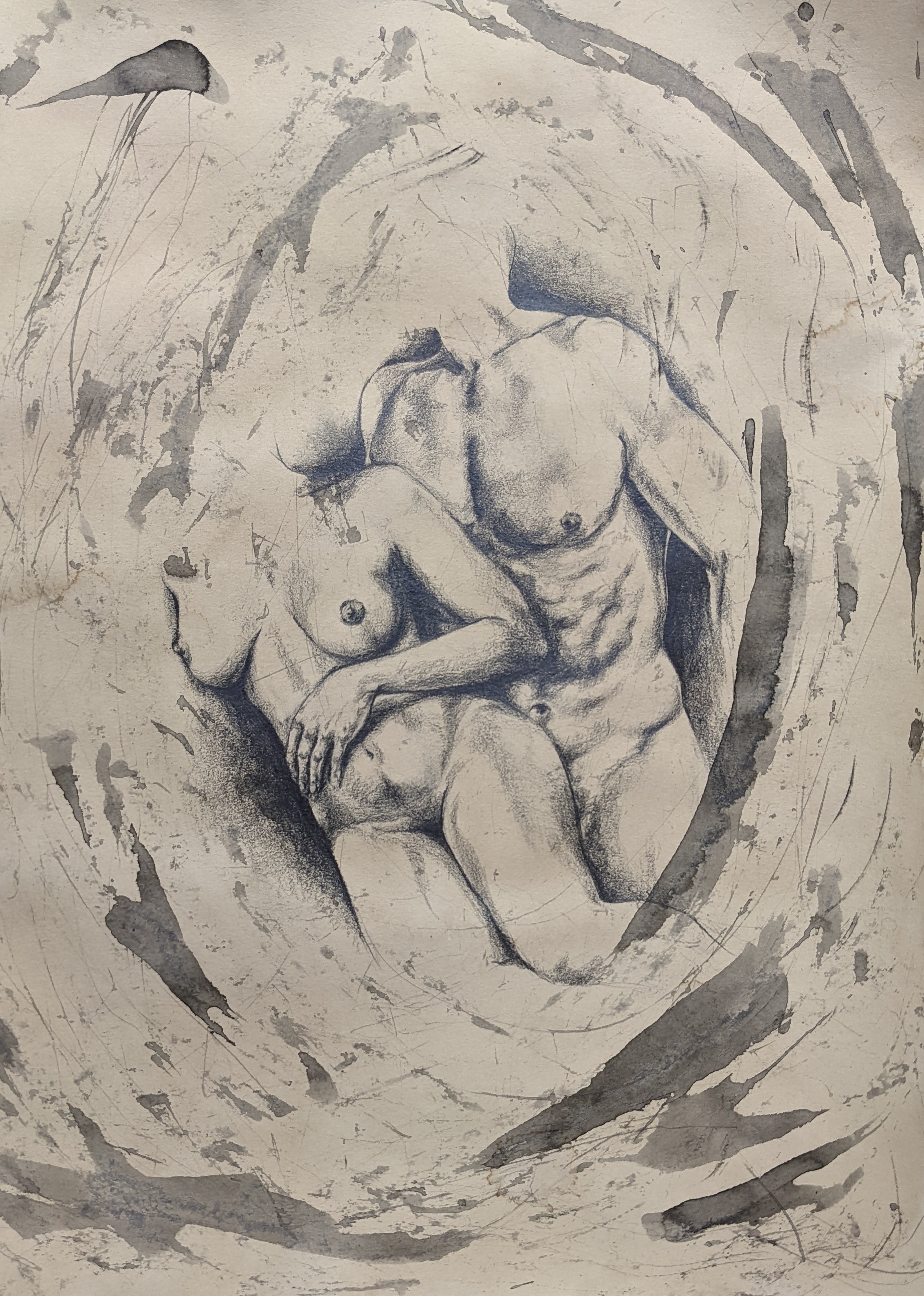 Second commission for "L"  | herbal tea, pencil, India ink, and wildfire charcoal on paper | 11" × 14" | private collection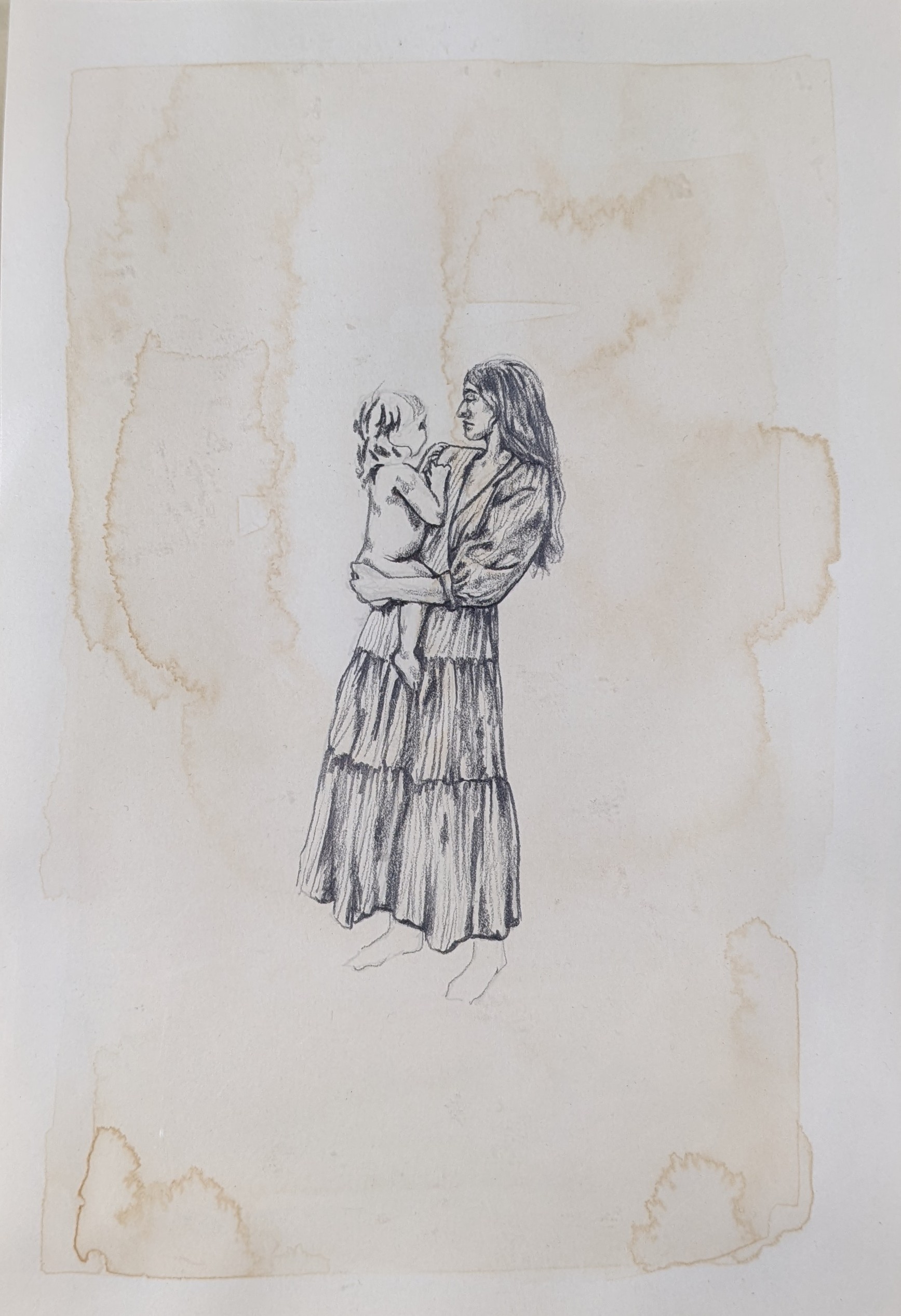 Little Dreams | herbal tea and pencil on paper | 6" × 9" | $40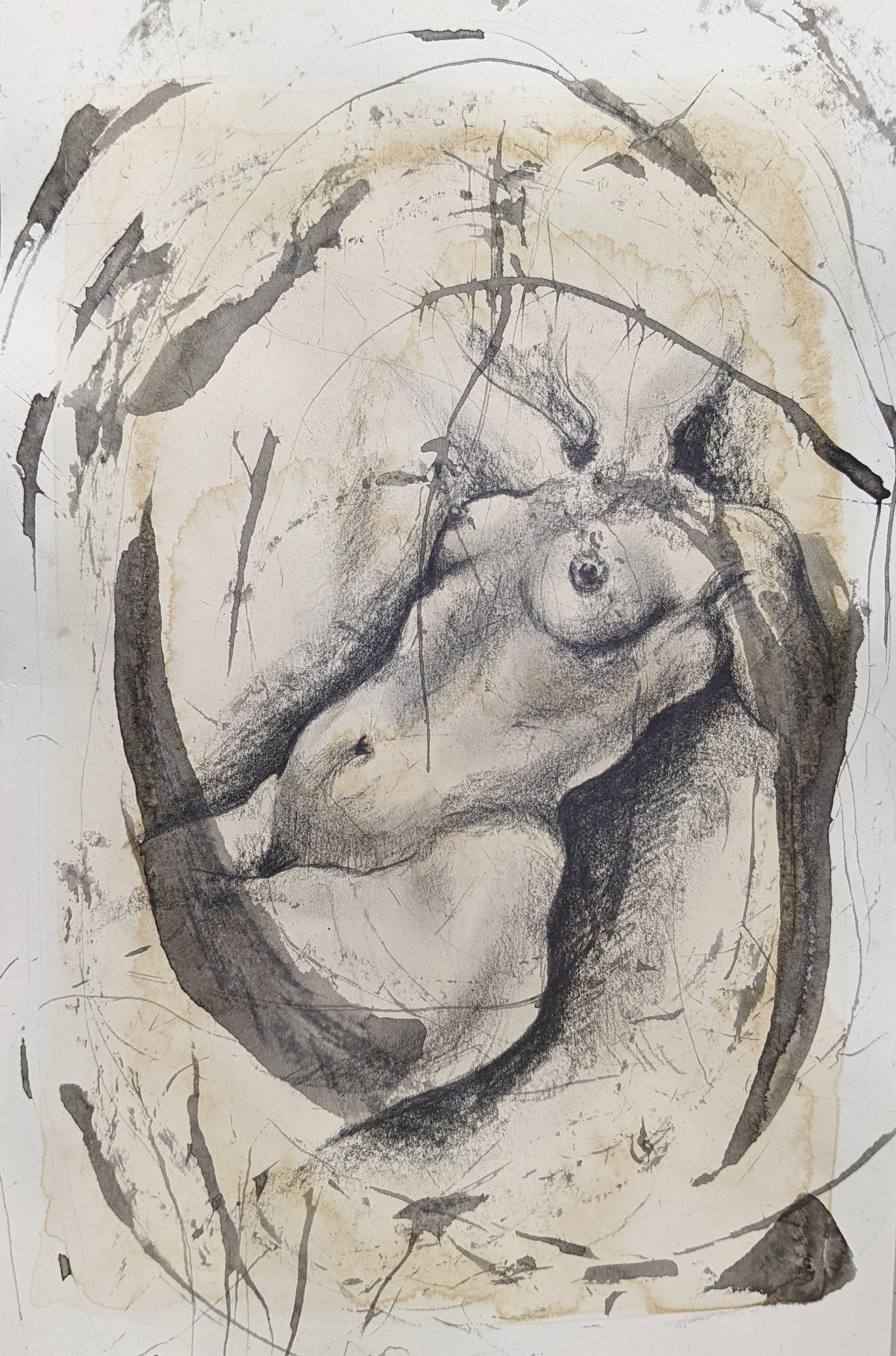 Lay | Herbal tea, wildfire charcoal, India ink, and pencil on paper | 6" × 9" | $50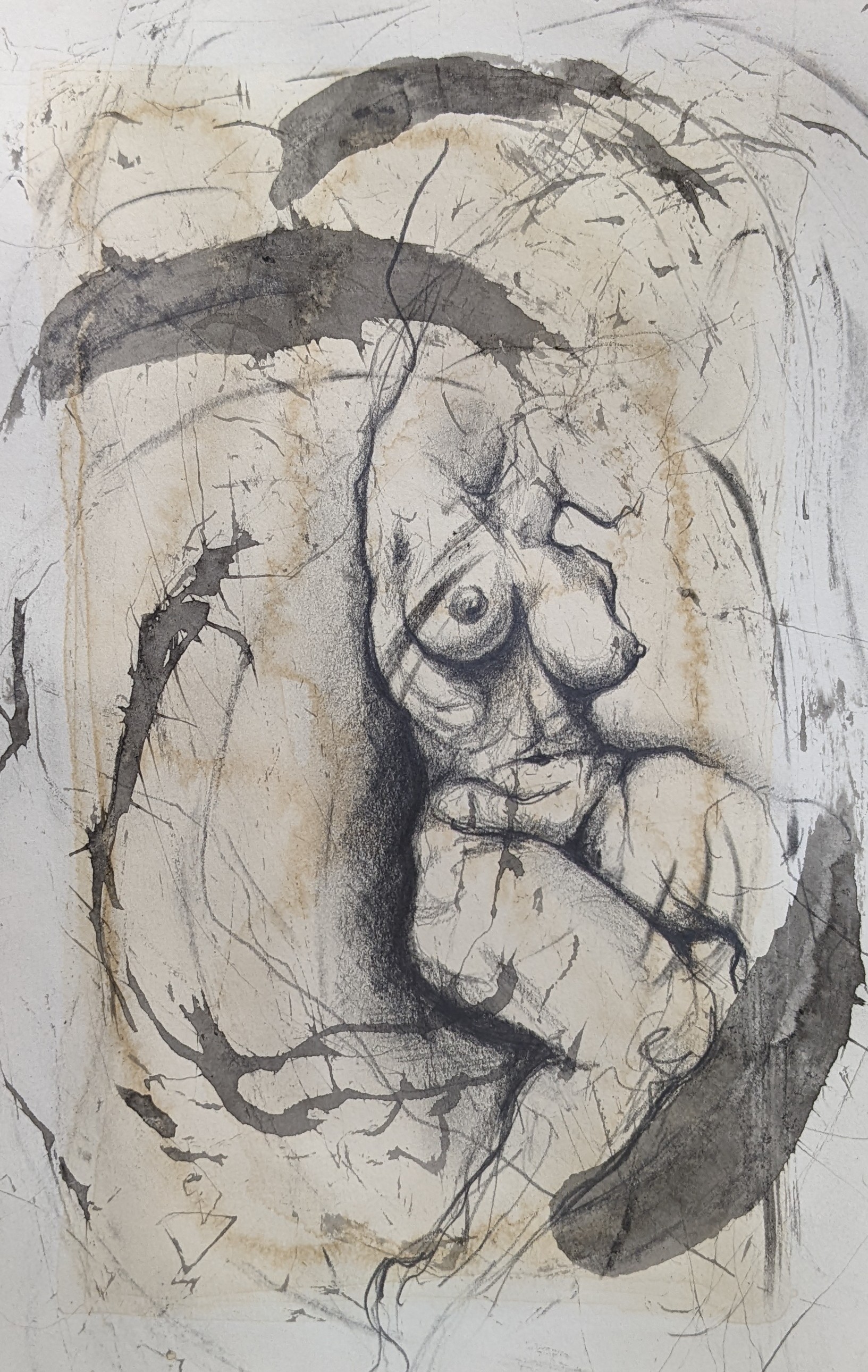 Spirited | Herbal tea, wildfire charcoal, India ink, and pencil on paper | 6" × 9" | $50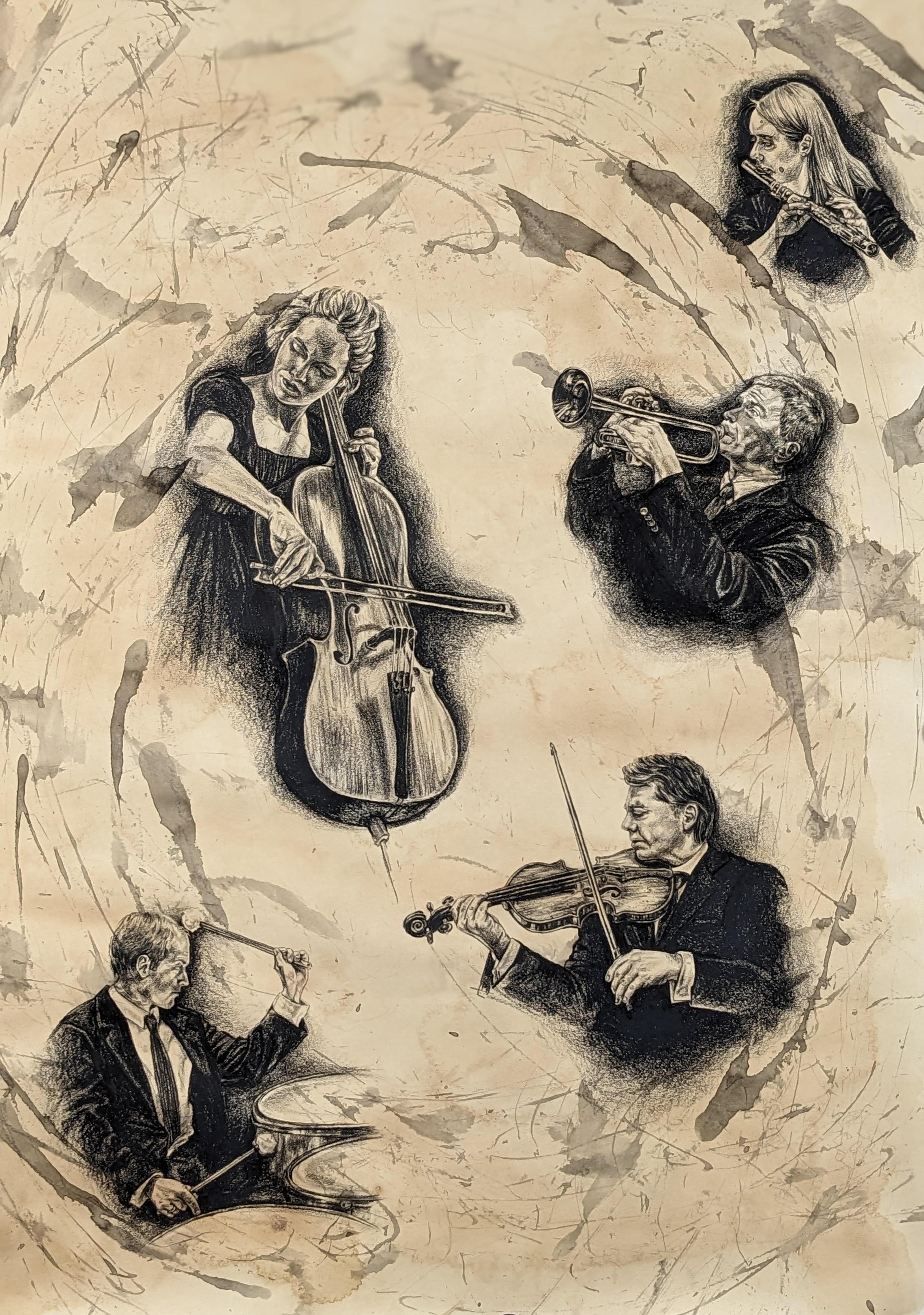 Legato | for the La Crosse Symphany Orcestra | 18" × 24" | Herbal tea, India ink, and pencil on paper | Marked with local plants, viola tuner, and violin bow | People's Choice Winner | SOLD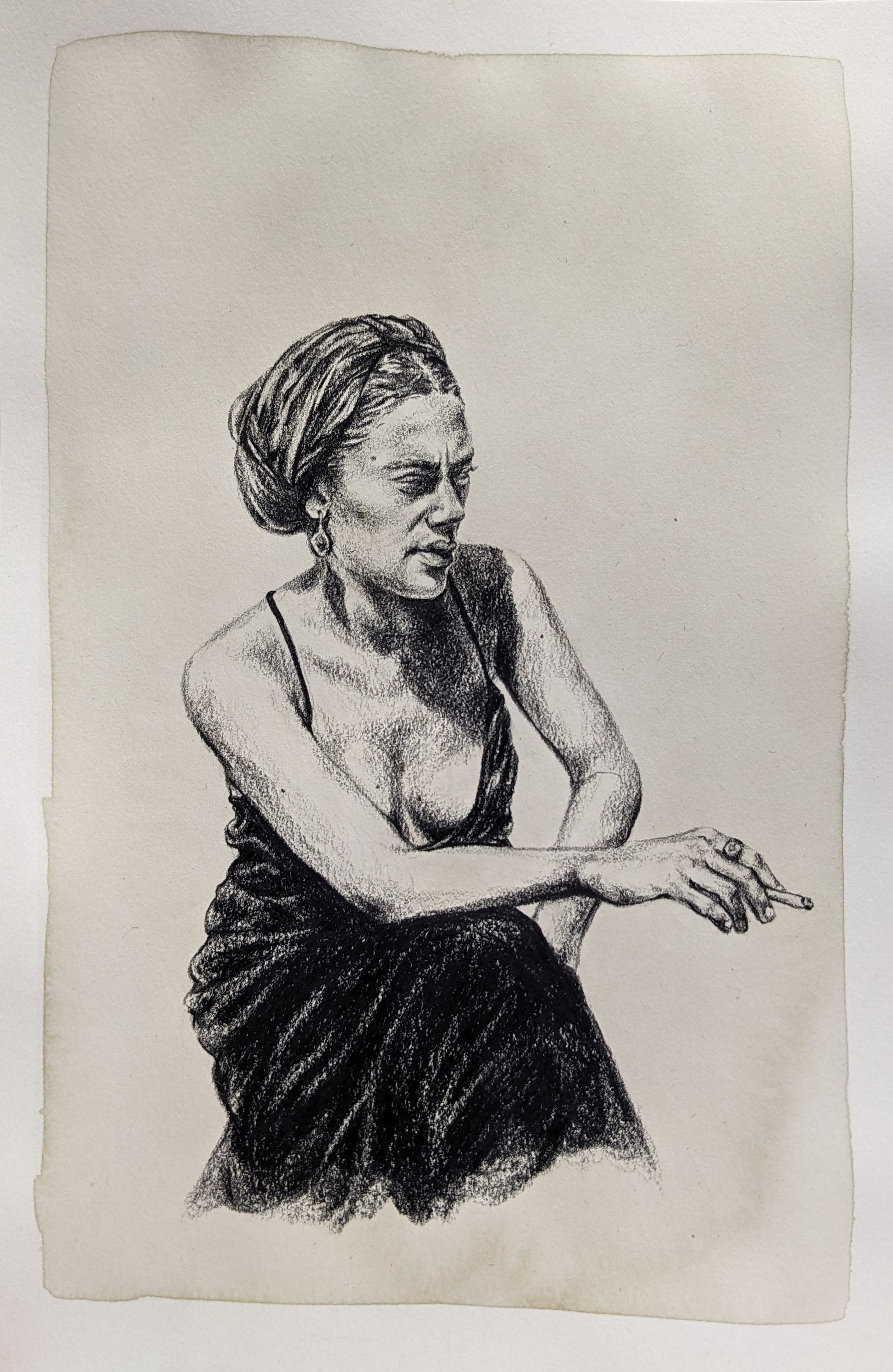 Smoke and Nettles | 6" × 9" | Herbal Nettle tea and black pencil on paper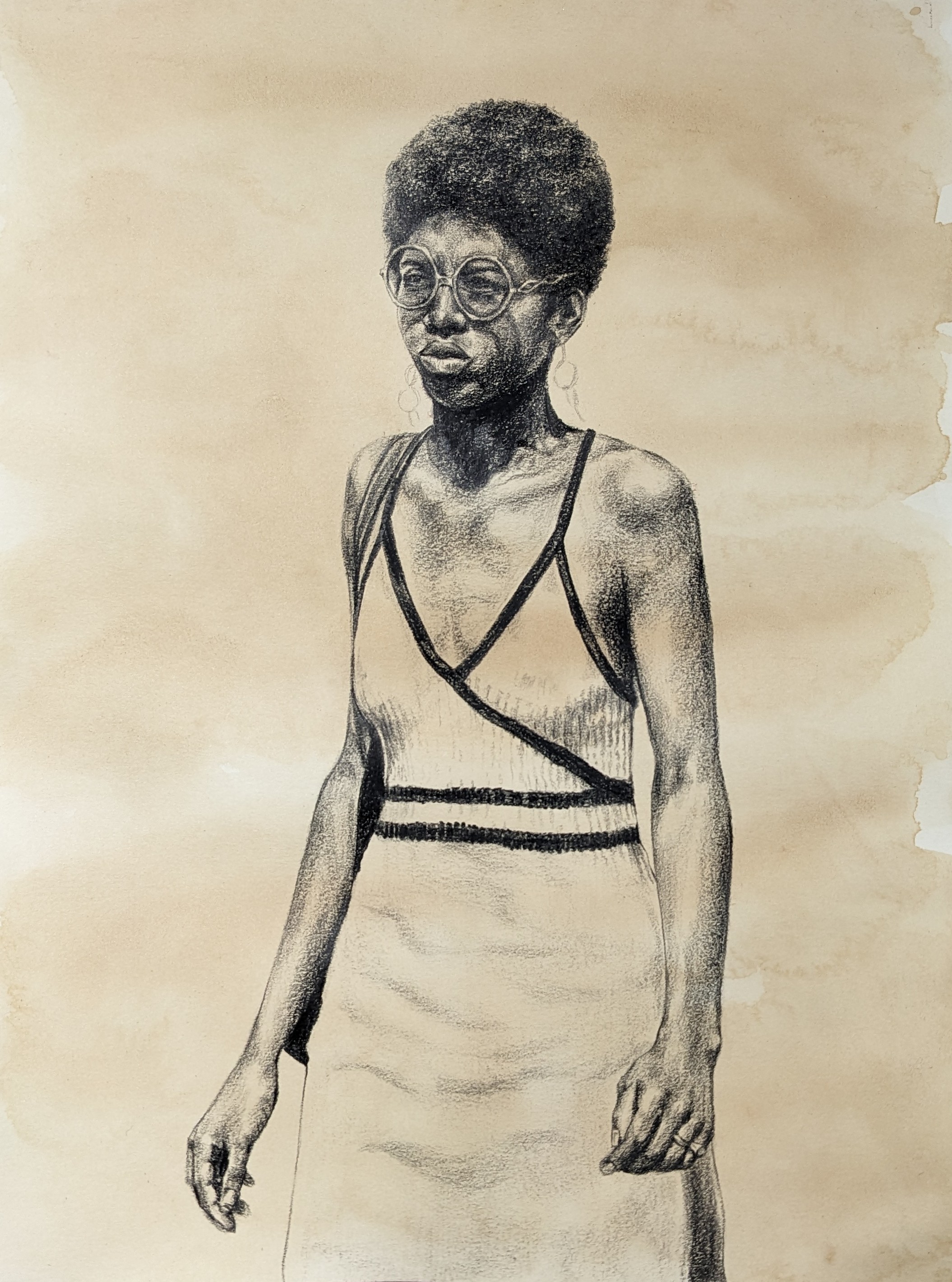 Circles | 9" × 12" | herbal tea and black pencil on paper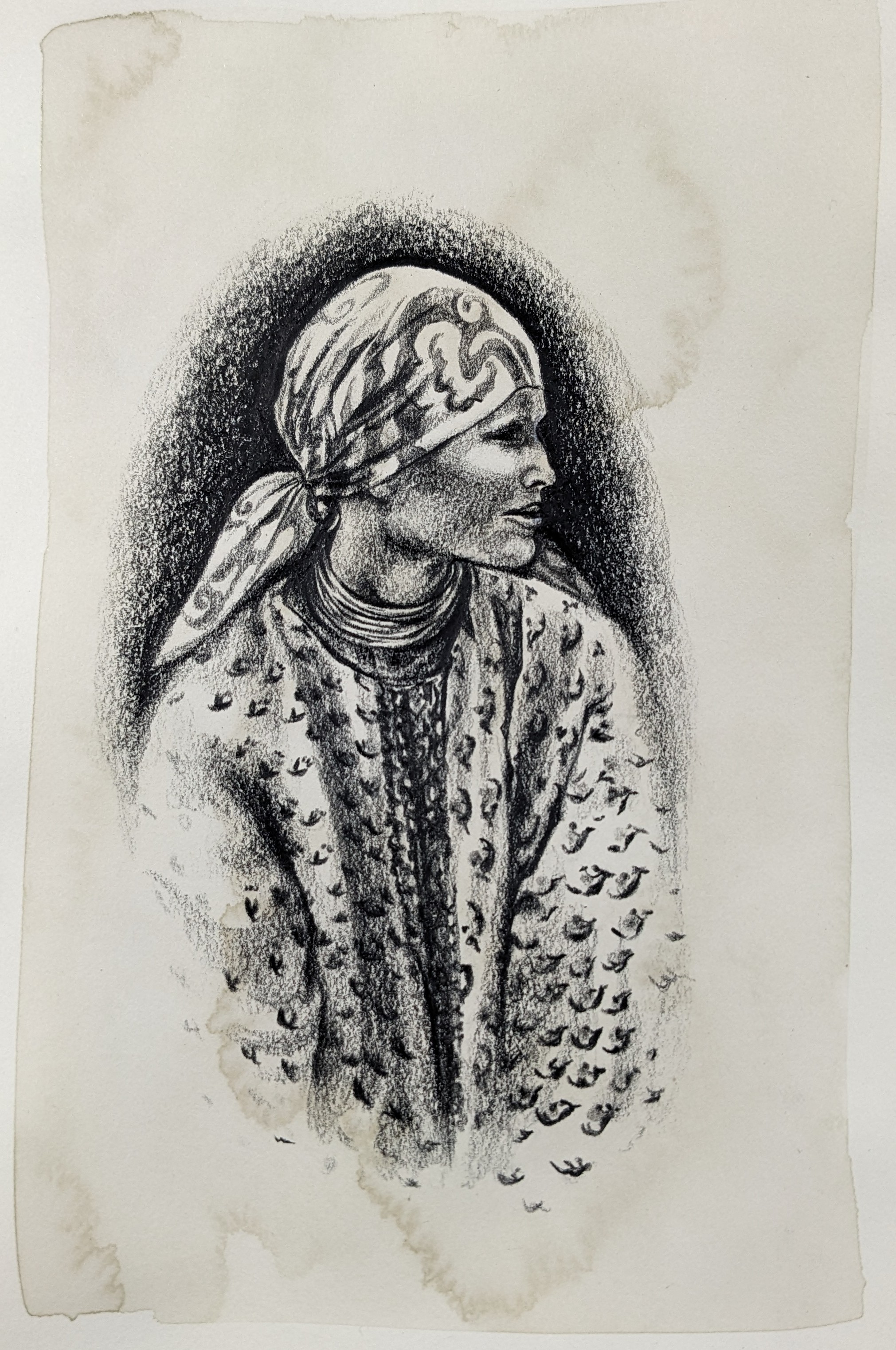 Swirl | 6" × 9" | nettle tea and black pencil on paper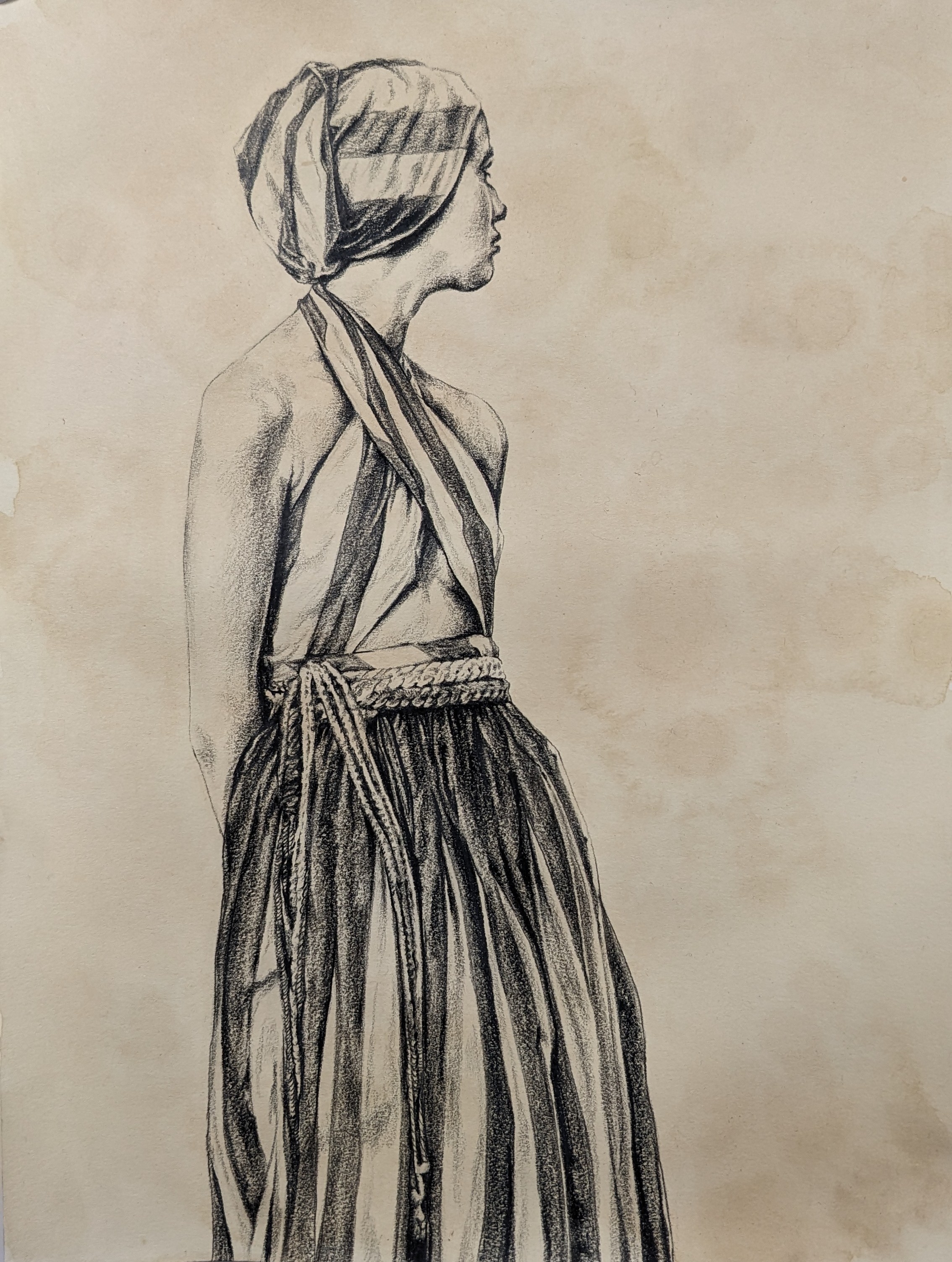 Blooms and Stripes | 9" × 12" | herbal tea and black pencil on paper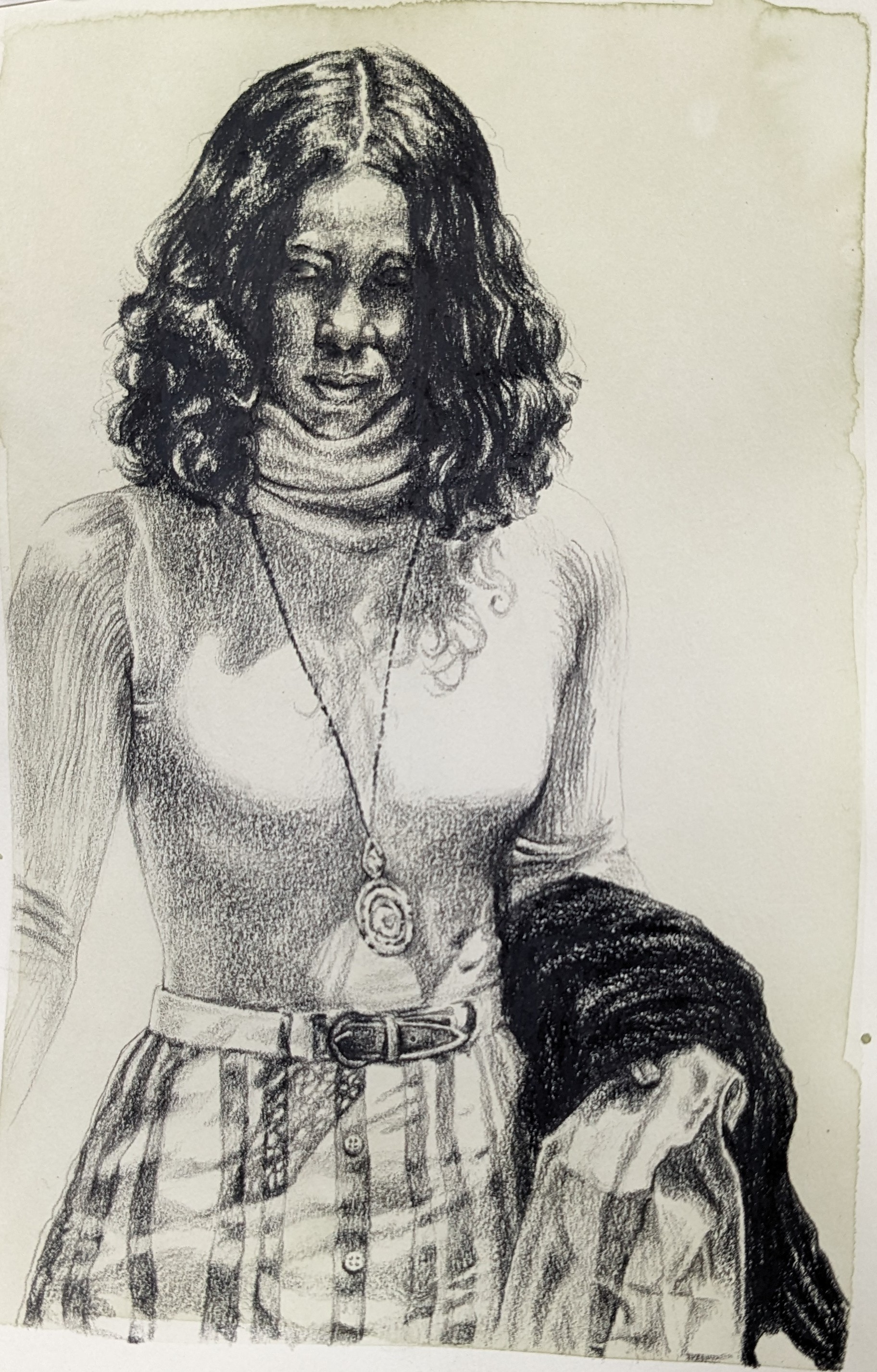 Brown Paper Bag | 6" × 9" | nettle tea and black pencil on paper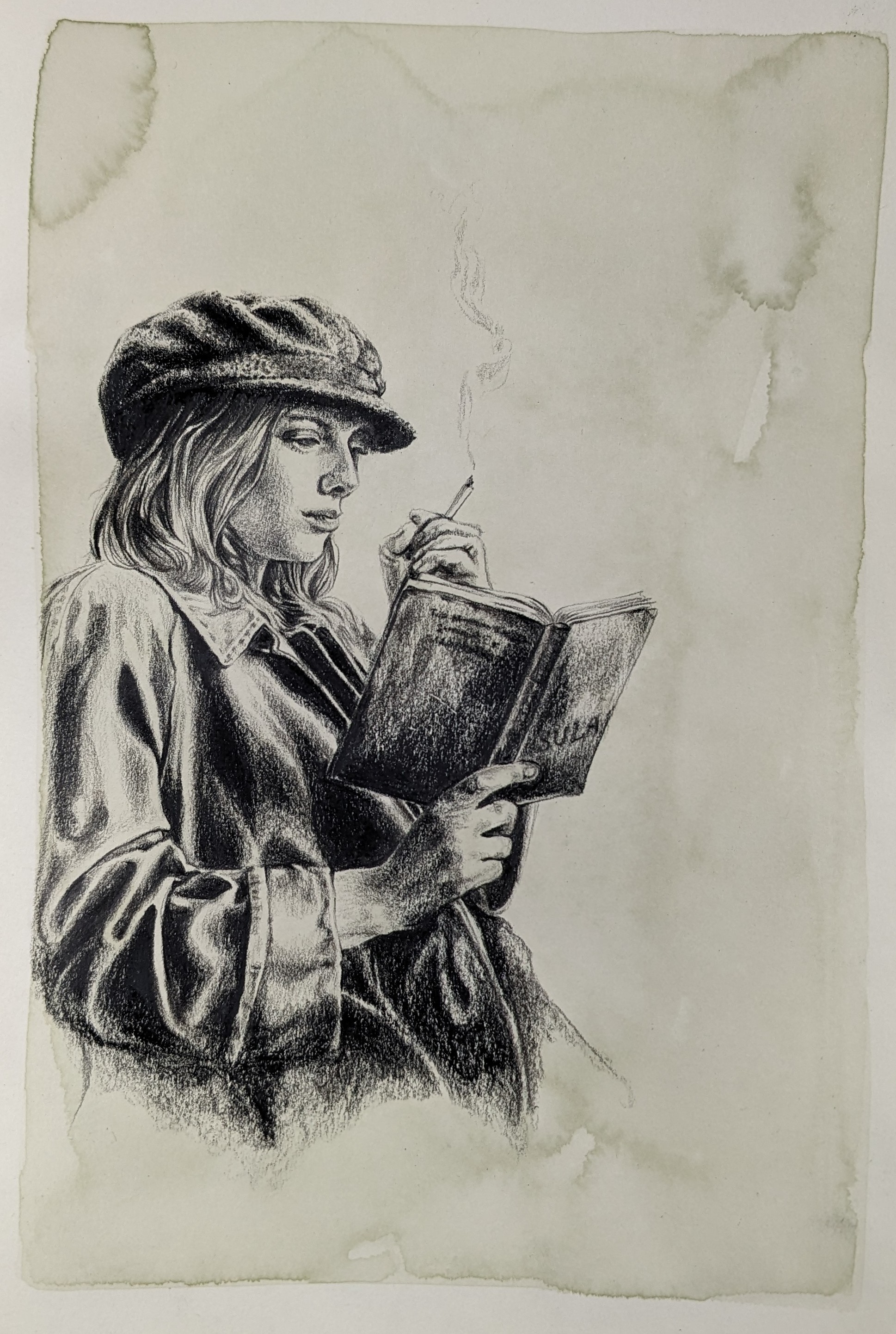 Reading Sula | 6" × 9" | nettle tea and black pencil on paper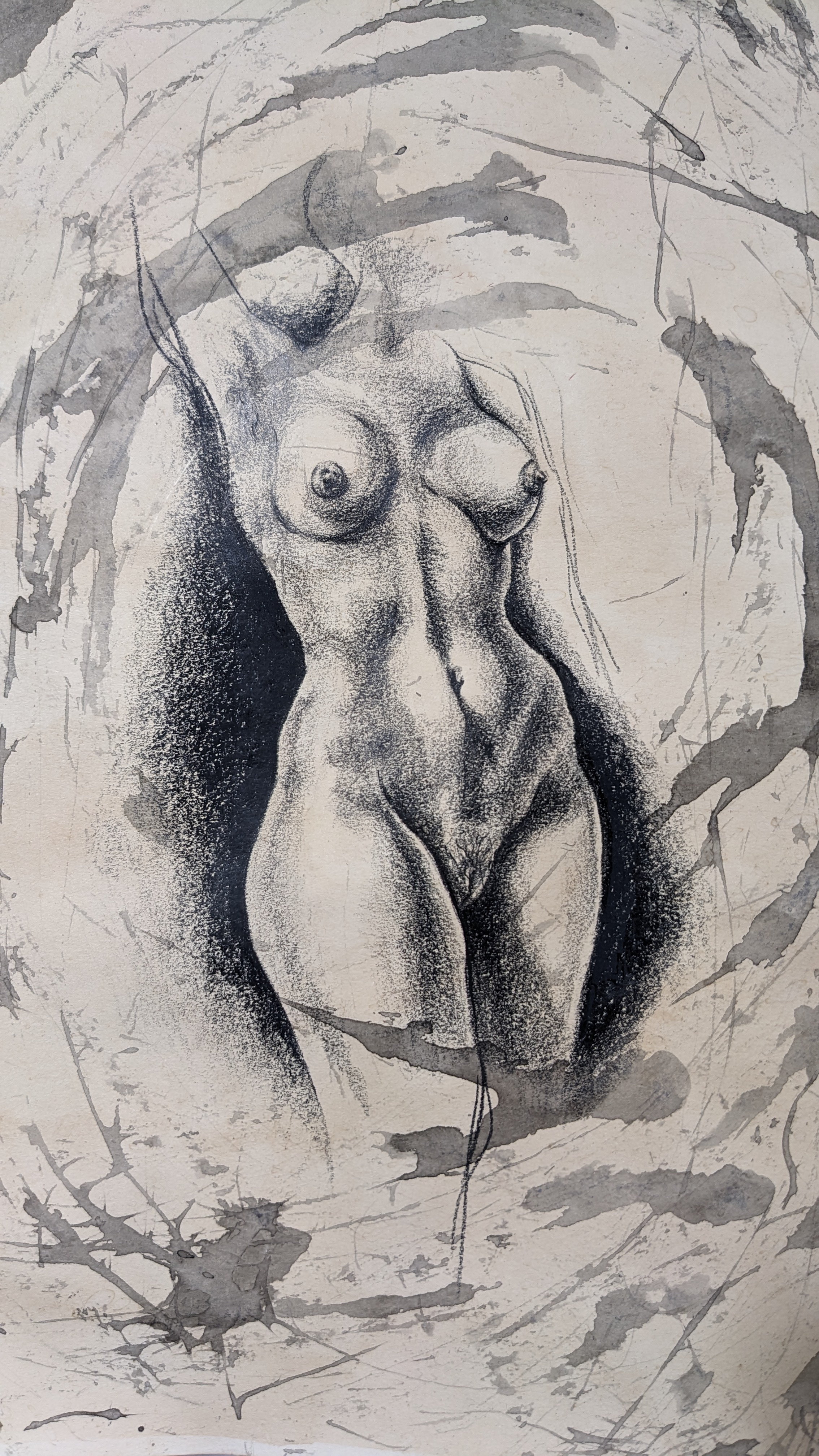 Another Nude Figure | 9" × 12" | herbal tea, India ink, wildfire charcoal, and black pencil on paper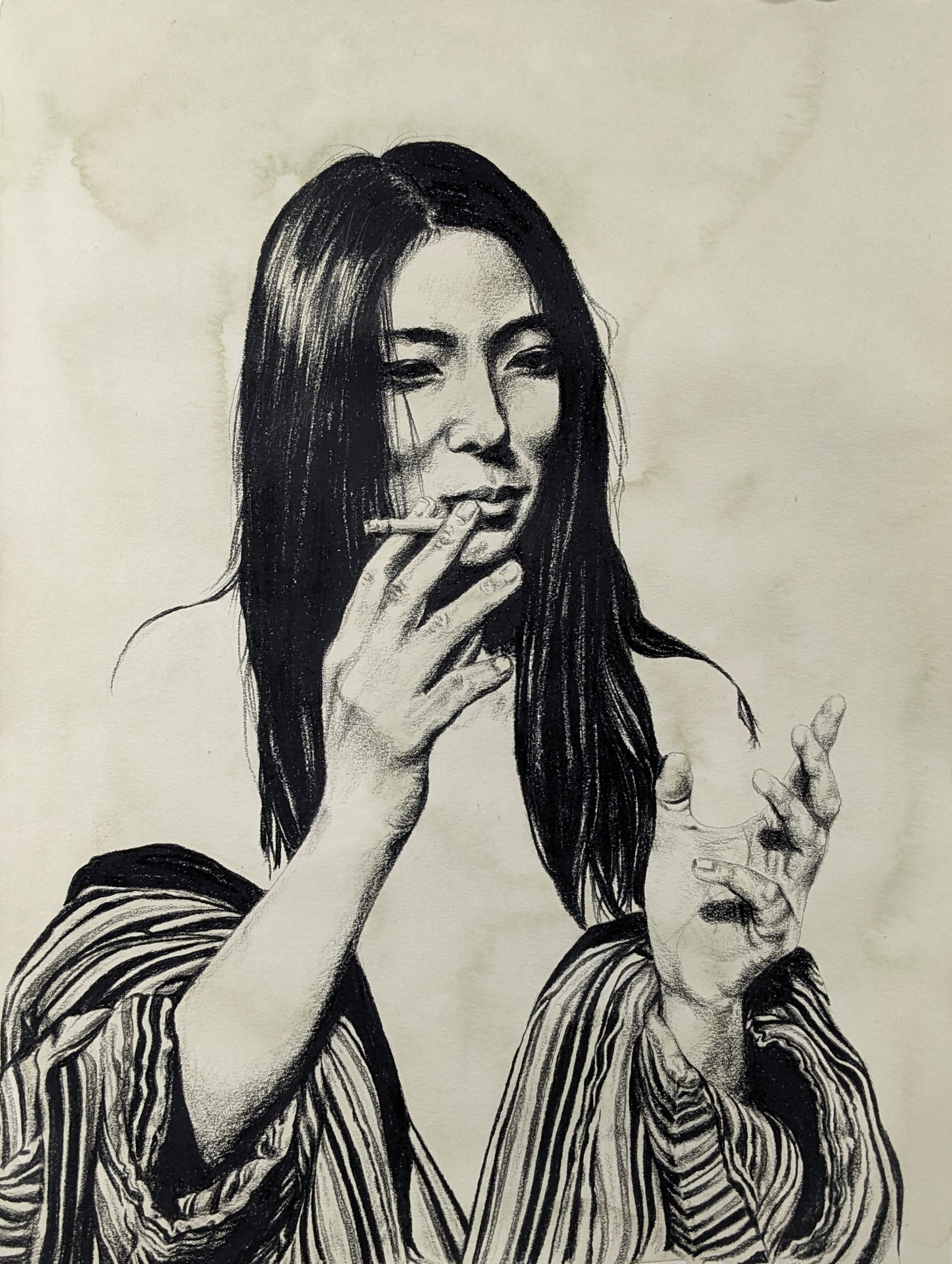 Smoking Mugwort, Mullein, Damiana, and Blue Lotus | 9" × 12" | Nettle tea and black pencil on paper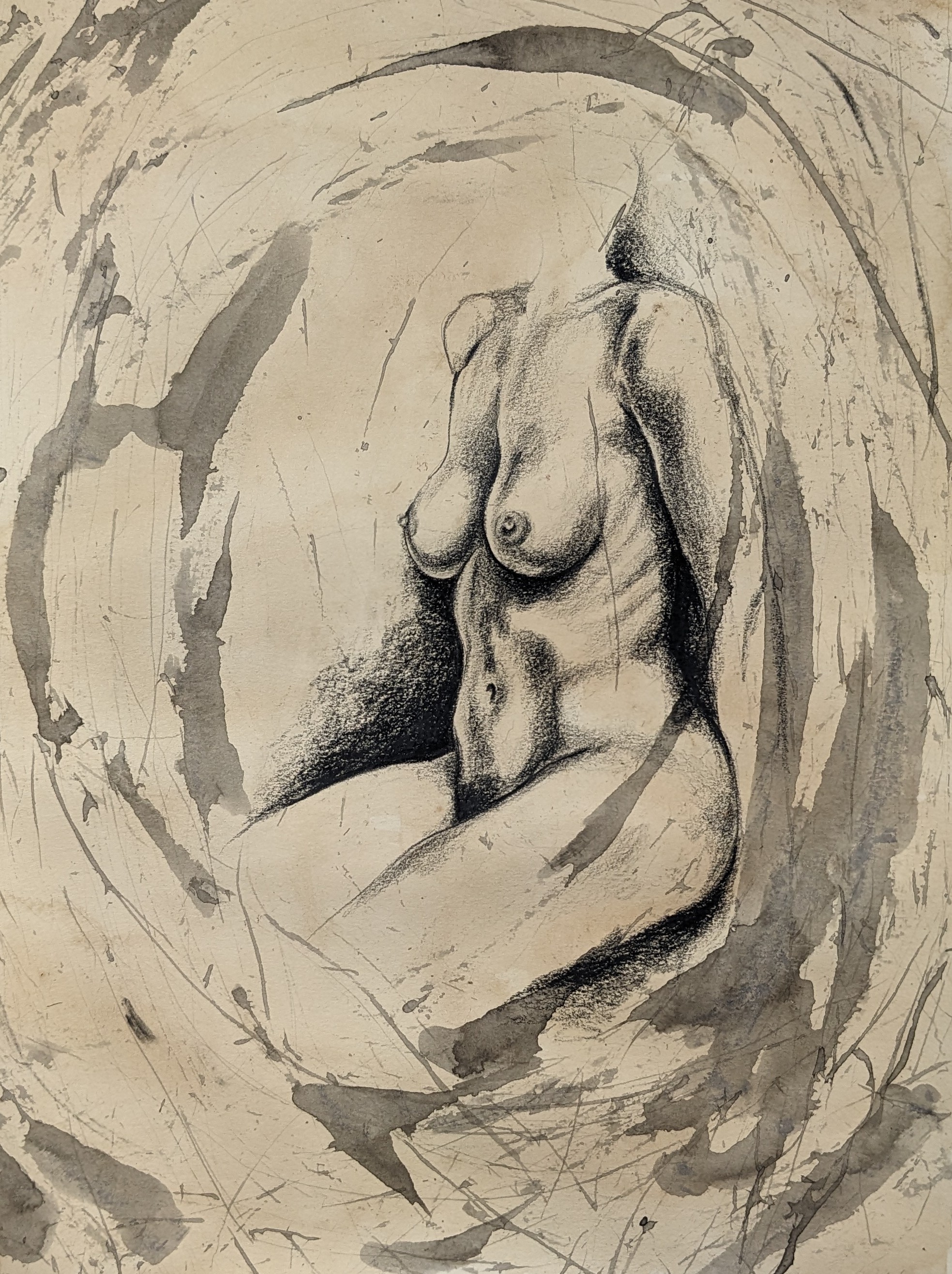 Upright | 9" × 12" | tea, wildfire charcoal, ink, and pencil